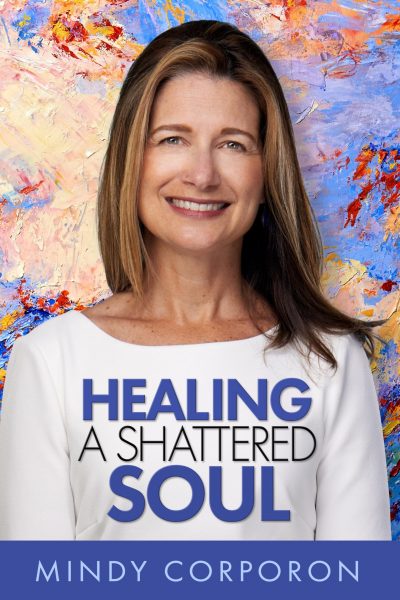 "My Faithful Journey of Courageous Kindness after tHE Trauma and Grief of Domestic Terrorism"
When the unimaginable occurs we can keep our mouths shut or find our voice. Tormented by sorrow and anguish after losing two family members to domestic terrorism I placed trust in God and listened for guidance. Healing a Shattered Soul is a reflection of my personal journey receiving and offering courageous kindness, a guide to those grieving and in need of inspiration, and a tribute to the perpetual love of my father and son.
ABOUT THE BOOK
In Healing a Shattered Soul, Mindy Corporon invites readers to join her search for inspiration and hope after domestic terrorism took the lives of her father and son. Headlines about the attack circled the world. Now, Mindy takes readers inside her family's struggle, the support of their faith community and her commitment to courageous kindness. 
Foreward by Adam Hamilton, Senior Pastor of The Church of the Resurrection in Leawood, Kansas.
Preface by Susan Bro, Co-Founder of the Heather Heyer Foundation.
WHAT OTHERS ARE SAYING ...
"Healing a Shattered Soul is about a journey none of us would willingly take. It is also about finding a way home from a harrowing journey. Mindy Corporon acts as our personal guide on this trip, demonstrating love and commitment as the best compasses to avoid losing ourselves on the way."

Sylvester "Sly" James, Author, "The Opportunity Agenda" with Winston Fisher
"I urge everyone to read Mindy's memoir and let her family's story inspire fresh discussion and action for equality, harmony, and peace across the many lines that divide us in this world."

Izzeldin Abuelaish, MD, Author, "I Shall Not Hate: A Gaza Doctor's Journey"
"Mindy Corporon's remarkable memoir titled Healing a Shattered Soul is a heartfelt testimonial about her personal journey through unspeakable grief. Her profound honesty and amazing strength conveying her innermost thoughts and feelings during the most painful time of her life are relevant for each one of us."

Peggy J. Dunn, Mayor, City of Leawood, Kansas
CONVERSATIONS WITH THE AUTHOR
Sign up to find out when a Conversation goes Live!
ENDORSEMENTS
"While suffering is draining, forgiveness is filling."
I believe this. As a Black woman in the US, freedom, and liberation is a constant struggle. It is ever-present suffering that appears in big ways at times and in seemingly small ways at some of the most unexpected times. In order to have the energy, passion, and commitment to go to battle every day, I need the "filling" that forgiveness brings. I use it to remember the limitations of hate and the expansiveness of love. Hate cannot restore. Only love is restorative. While I believe that the solutions to our problems are three-fold – in the heart, in the action, and in the legislation – I am inspired that Mindy is relentlessly focused on the heart. We can make a ripple and change the world and Healing a Shattered Soul gives us much insight into how we can act on that belief."
DR. NICOLE D. PRICE, AUTHOR, SPEAKER, TRAINER
This is a book about how we struggle with faith and how faith if we are able to believe and hold onto that belief, can be the foundation for healing and finding the way forward when we experience life struggles. Each of us will struggle at some time in life. Some of our struggles are monumental as in Mindy's story. Others are shattering in other ways: a failed relationship, economic downturn, the death of a loved one. Regardless of what causes us to struggle, Healing a Shattered Soul can help us discover what we can do to find a way to crawl through what Psalm 23 calls the "valley of darkness." As Mindy shares her personal journey, she does not preach at us. Rather, she opens the door so that we can walk alongside her, revealing that loss and love, hurt and healing, faith, and freedom all go hand in hand. As she was advised by her pastor to "keep listening," Healing a Shattered Soul is a must-read for all of us who need to keep listening to find healing and hope in a broken world.
RABBI ARTHUR NEMITOFF, SENIOR RABBI OF THE TEMPLE, CONGREGATION B'NAI JEHUDAH IN OVERLAND PARK, KANSAS
Mindy Corporon provides an insider's view of a mother's grief, a daughter's sorrow, an activist's intention, a leader's calling, and a woman's grit by sharing her story of the murder of her son and father in a religiously motivated hate crime by a white supremacist. Then, readers will be uplifted as Mindy urges all of us to act with kindness, to seek to understand and to come together as a diverse, pluralistic community. By taking us along on her journey, Mindy fulfills her goal to bring people together and helps us all to make a ripple to change the world.
ALANA MULLER, BUSINESS RELATIONSHIP COACH AND CEO OF COFFEE LUNCH COFFEE
In response to a neo-Nazi's murder of her son and father in 2014, Mindy Corporon has filled her world with love, compassion, and kindness. But as Healing a Shattered Soul reveals, that doesn't mean she has avoided profound, intense, at-time debilitating pain. Hers is the sort of grievous wound caused by the type of extremism that those of us who are members of 9/11 families know only too well. This book gives you the privilege of sharing both in Mindy's grief and in her remarkable hope, which is rooted in faith. Let this book heal you so you can help heal the world.
BILL TAMMEUS, JOURNALIST, AUTHOR OF LOVE, LOSS, AND ENDURANCE: A 9/11 STORY OF RESILIENCE AND HOPE IN AN AGE OF ANXIETY