"Bring My People Together"
"Bring My People Together"
"Bring My people Together": Running the risk of being completely labeled one way or another, the challenge I was presented with in 2014 is bubbling differently for me now. The burning in my chest is a familiar pain.  Significant loss creates significant, unimaginable pain.  This pain fuels something in me…questions, searching and a longing to find solace and peace. Peace for all, not just for me.
I am a white, Christian woman who suffered at the hands of white supremacy. Jews were the target. Our family was shattered. I was shattered. Because of my whiteness, not my faith in particular, but the color of my skin, there were no obstacles too large for me to find the justice, care, and healing needed for myself and my family members.
Black families who have suffered and continue to suffer in the same way have not found the path to justice, care, and healing to be as smooth. Many times the path is blocked by so many obstacles the very idea of finding justice, care, and healing is debilitating. When an entire system is against you, how do you breathe?
I am no longer afraid to speak out against the systemic racism I see with my own eyes and hear with my own ears.
Shortly after the murders of my father and son in April 2014, I felt God lay a challenge on my heart-I heard the words "Bring my people together".  From 2014 to 2020, my focus has been on bringing people of different faiths together. With one conversation at a time, one event, and then another we have created a fascinating network of those who engage with one another from various faith traditions. Love shines when we all shine.  Kindness is not particular when it comes to faith traditions and everyone loves clean water and soft toilet paper.
In 2020, the news of the Ahmaud Arbery murder, shook some blinders off my eyes.  "Bring my people together" may have been intended for the faith lane at the time my father and son were murdered.  This message now includes the race lane.
Friends, we must have conversations with one another, rather than jabbing and throwing insults over social media. We must engage in dialogue to understand our experiences, many of which are not shared and therefore uncommon and seen as "strange" or "weird".
I ask my white friends to find a black friend or a friend of a friend and begin having conversations.  As usual, initially stay away from politics and religion.  Saying the words and believing that black lives matter is not a political statement, nor is it an endorsement of any organization, it is a human interest statement.  Yes, all lives matter, AND in this instance, all lives were NOT enslaved during recent history and since kept from equal rights. Policies and laws, were and are in place as obstacles to equality.  Only one example is listed because I am still new to understanding all of the systemic building blocks put in place to deter blacks and boost whites.
In 2014 I met Jacqueline Murekatete.  Do you know the history of the Rwandan Genocide? This history makes me angry and physically ill.  The atrocities of neighbor killing neighbor, family members murdering family members were prompted by the Rwandan government.  If you are unaware of how the Hutu's were led to murder their friends and neighbors who were Tutsi's I suggest you look it up, read about it, and SEE the similarity of the language that was used then and now.
Dehumanizing words lead to dehumanizing behaviors.
I ask my black friends to allow for what you might consider "stupid" questions, jaw-dropping moments, and the words "I just didn't realize" to wash over you as best they can.  There is no way I will ever know how you have felt as a black person. My goal is to know how you feel as a black person going forward because I want you to feel as free as me.
Former Congressman John Lewis passed on July 17, 2020. I found his final essay, provided to all of us only hours before the start of his funeral, on July 30.  The sentence that grasps my heart the most is this one;
"I urge you to answer the highest calling of your heart and stand up for what you truly believe."

– former Congressman John Lewis.
As we all are working to "stand up for what we truly believe" let's stop hurting each other at the same time.  Yes, we are all different. Yes, we all have commonalities…the first being, we are human.
I don't know my next step and I don't need to know it right now.  For me and for you, let's work to take the next step that brings us closer together for a chat, even a virtual chat.  One positive aspect of a pandemic is finding resilience in our ability to connect.
John Lewis' family made a full statement to the public thanking all of us for our love and care of them. This paragraph gives each of us an action to take.
"Given the seriousness of the pandemic, the Lewis family wants people to protect their health and encourages people who want to attend to consider organizing virtual John Lewis Love events in their homes to watch his funeral services. They also encourage well-wishers to tie a blue or purple ribbon on their front doors or in their front yards to commemorate his life and signal that your household is part of the streaming community.  Thank you for your patience and understanding and for your devotion to Rep. Lewis."
Show love today. Hell, show love everyday.
Open hearts allow for connection. Connection leads to progress. Progress paves the way to equality.
Shining a light on peace
– Mindy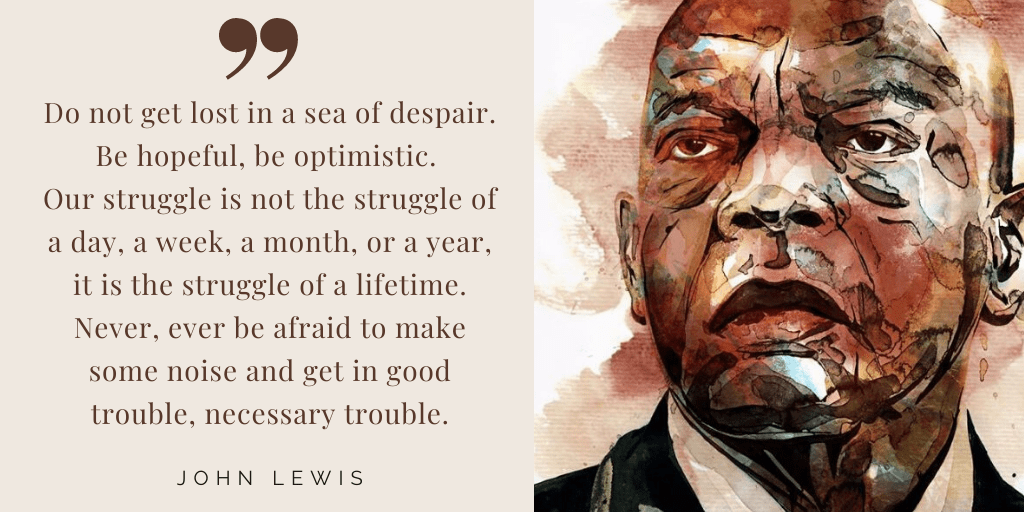 Like this content? Please share.