Is Chillaxing a Word?
Do you chillax or relax?
Chillaxing… is what I think of when I see this pelican. Is Chillaxing a Word? Let's call him Pelican Kevin. Most of us know the importance of relaxation.
I just don't do it well. When I sit still for a length of time, allowing my mind to slow down and wander – I end up thinking of more things I want to do, or more things I want others to do. Just ask my spouse, Len.
For instance, as I sat on a beach, supposedly relaxing, I picked up my phone and took about 100 photos of Pelican Kevin. As I was relaxing, my brain started working…I planned 12 blogs about Pelican Kevin. Let's get going!
Pelican Kevin seems to be relaxing in this photo. I don't think he was relaxing much at all. He was scanning the waters for lunch.
Later, I found him (I am taking liberty with his gender) helping a friend find some food. Together, they would fly over the water and then one of them (Actually, I am not sure if Pelican Kevin was helping a friend or if a friend was helping Pelican Kevin) would scatter the fish and the other would dive head first for lunch!
Deliberate kindness in wildlife?
Seriously, they probably weren't being kind…they were each trying to SURVIVE. For them, survival is finding food. To find food, they work together! Pretty simple.
Helping one another as humans, is simple, too. Let's help one another survive with an abundance of acts of kindness.
While we could choose to be kind every day, it can be difficult at times. Offering assistance is my dear friend, Dr. Michelle Robin. She encourages us to deliberately be kind on WORLD KINDNESS DAY, November 13. (yeah, I am a planner)
My personal kindness tip for January…
Show thanks to everyone you can.
Say "thank you" abundantly, with a smile. This simple act of kindness might help another survive their day.
Making a ripple in KINDNESS, faith and healing.
-Mindy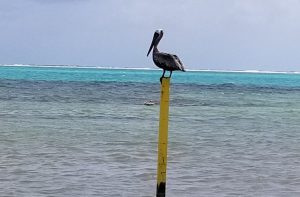 Like this content? Please share!