What Does it Mean to be a Father?
As Father's Day is approaching I asked my husband, Len Losen, who raised Reat and Lukas to the ages of 14 and 20 respectively, 'What does it mean to you to be a father?'.
His answer, tells me more than I had expected.
Len and I married in 2001. Ours was a second marriage for both of us and I brought one child into our relationship. Reat was 10 months old when I met Len and about to turn two when we married. In 2002, we added Lukas to our family and opted to stay a family of four. Reat saw his biological father but Len raised Reat as his own. Our boys grew up as brothers only 2 yrs and 10 mos in age difference.
Our son Reat, and my father, William L Corporon, MD were two of three innocent victims murdered in a hate crime in  Overland Park, Kansas on April 13, 2014. Reat was 14, a freshman in high school and Lukas was 12, in his sixth grade of middle school. Our family shattered into more pieces than there are words to explain. I have done my best to provide healing to our family, myself and anyone who might want to listen by authoring a memoir, Healing a Shattered Soul, published May 3, 2021.
Father to Our Boys…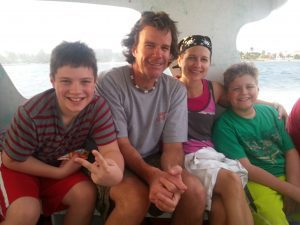 While Len and I spoke about his fathering of our boys, he spoke gently when remembering Reat. He spoke with reverence for Reat's high intellect and his talents in singing, performing and debate. Len's engaging smile will forever cross his face when he retells our Easter memory of Reat finding a dog he wanted us to bring home. Lucy is sitting next to me as I type this now. Lucy is 10 years old and Reat has been in Heaven for eight years.
"Remember the hours of preparation and meetings we held creating the Outdoor Learning Center?" Len's energy picks up as he recalls how he channeled grief into using shovels, a backhoe and overseeing the laying of a large concrete pad in the center of our boy's middle school. The Blue Valley Middle School Outdoor Learning Center was one of several memorials born from our pain, anguish and torment of losing our son. In our home, each of us grieved differently. Len found solace in the outdoors realizing Mother Nature helped him feel close to Reat.
There are no words to take away the pain of a grieving parent. None.
Our friends stayed close by, feeding us, caring for our home as if it were theirs and ensuring we found nutrition. They allowed us to repeat memories over a thousand times hoping this retelling and retelling would emblazon them in our hearts and minds. Because, now, those memories are all we have.
To those fathers' who are newly grieving, we don't have an elixir that will ease your pain.
Frankly, Len's advice is to feel it early and often, without numbing it with vices, such as alcohol. The sun will rise, even when you find it difficult to do so. The heaving cries and aches will slow long enough for you to learn to breathe again. Your tears that come more often than you ever thought possible will cleanse your heart time and time again. And the qualities you cherish about your child, well, they will place a smile, you knew you had lost, across your exhausted face.
There are angels on our earth, allowing them to help you, to lift you on their wings and carry you while you grieve will provide you some respite in the middle of your chaos. These angels, your friends, coworkers and other parents you have met along the way, they cannot take away your pain or mine, but they will help you carry the burden.
What does it mean to you, to be a father?
Len shared that 'it adds meaning to my time on earth, my living each day. Being a father is worthwhile and meaningful and totally worth all the pain that has come with it. I miss Reat. I am sad that he didn't get to be a dad. He would have been a wonderful father, better than me.'
Have a blessed Father's Day. Rejoice in who made you a father or father figure. Remember how it felt or feels to have their hugs, see their smiles and hear their laughs. Know that the pain you may have is from the love you do have.
– Mindy