Alone or Together; Is One Better Than Another?
Alone or Together; Is One Better Than Another? Sitting alone on the end of a dock I could feel and hear the wind and the lapping of the water against the support poles. I had moved from alone to together. Together with nature, together with God. I love being together.
I love my time alone.
Within a few minutes, my senses moved beyond my immediate surrounding and found the new sound emanating from the reef just in front of me. Still hearing the lapping of the water so close to my feet, I could now hear the much stronger, louder waves crashing over the reef. A screeching bird passed by, interrupting my thoughts.
Most would never consider me an introvert. First to raise my hand to help or get involved, no worries in front of a crowd or leading a chant to rally the team…these came naturally for me. However, my energy is replenished when I am alone.
In the day to day of life, I can stay in my personal bubble, stay in my own head. But what I am missing when I do this? I miss the nuances of life. I miss being present with family, children, aging parents, friends and community.
Alone or Together?
So, I take myself out there…I love being with friends, too. Engaging others in discussions of social and cultural change, improving our world, encouraging better health and wellness and eating, (yep, eating) ALL find their way on my "to do" list.
I enjoy being together. Lori Mallory says it well in her recent To Serve Well post about her love of community!
Knowing who I am…contemplating the best way I think, learn, create and solve life's situations has been a lifelong process. (I feel confident saying lifelong, since I turned 50 last year.)
I am comfortable with a loud, boisterous crowd, a heated discussion about the best way to engage our Faith Always Wins Foundation audience and sitting on my porch (alone), writing this note.
Understanding when I need one over the other is satisfying.
Find who YOU are…alone or together…and be the best YOU, you can be.
Checking in on Pelican Kevin…sometimes alone, sometimes together. Pelican Kevin seems to have figured it out.
Making a ripple in KINDNESS, faith and healing.
-Mindy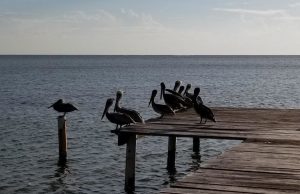 Like this content? Please share!