Episode 9: Who is Your TRIBE?
On May 21, 2020 – my son, Reat turned 21 in Heaven. The week leading to this significant date in our lives left me feeling empty and working to fill my soul with anything to avoid the "empty".  On May 21, I expanded my TRIBE!
Who is in your T R I B E? In this podcast, I offer insight into my personal vulnerabilities (plural) and guidance on the ins and outs of creating your own TRIBE.
This podcast was recorded in May – during COVID-19 and before the protests and riots in the United States due to the steady and increasing violence targeted at people of color.
Who is Your Tribe Podcast on YouTube
TRIBE.   TRUTHFUL     RESPECTFUL     INSPIRATIONAL     BALANCED     ENCOURAGING.
mindy's show notes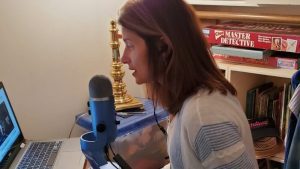 Lukas has left my nest. Reat turned 21 in Heaven. COVID -19 shame has me explaining why we left our home in Florida carrying household cleaners, latex gloves, and faces covers! My lack of sleep seems to make sense after mentioning each of these transitions occurring at the exact same time.
While blood relatives are significantly important, my TRIBE is a necessity of a different sort. Take a listen and let me know how you feel about your tribe.
Mentioned in this episode:
Mindy's spouse, Len Losen "Let's go play- Tribe member"
Ramadan was celebrated from April 23 – May 24, 2020. This podcast was recorded in mid-May.
Church of the Resurrection; www.cor.org; "stretcher bearers"
Scott Bacon, Principal of Blue Valley High School, Overland Park, KS
Josh and Jeri – friends who let me cry openly in their home