How do we learn to LOVE?
How do we learn to LOVE? LOVE, Discover, Others, Connect, You, Go and Onward…the seven themes of SevenDays® Make a Ripple, Change the World!
From hate that took the lives of three amazing people, The Faith Always Wins Foundation and our flagship event, SevenDays® Make a Ripple, Change the World was created.
Today, we are focusing on Love.  And why not…with Valentine's Day only hours from now.
Love is …
Love is belonging.         Love is a heart-warming experience.      Love is being cared for.
Love is being listened to.
Love is – when I think of love, so many aspects come to mind. My living son, Lukas. With his cherub smile, his curly blond hair and his bear hugs. My deceased son, Reat, with performing attributes that continue to make my heart skip a beat. Our family founded the Faith Always Wins Foundation out of love for each of them and for you.
Love is piling out of the car after a 2 ½ our drive (although it seemed much longer) to our Muthie and Granddaddy's home in Ponca City, Oklahoma – running in for the warm greeting they always gave, along with a trip to the fig newton jar.
"Love thy neighbor" – "Love reaps love" – "All we need is Love"
Sound familiar, don't they?
Many of us say these, maybe even daily. We send memes about them, too. My cousin, Kim, can find a meme about love in less than a second. She has a talent for meme finding and sharing love. Kim taught me a lesson in love through hospitality – Texas style. A big hug upon entering the room, gracious and engaging conversation and listening, truly listening. Kim is love.
Can you imagine NEVER receiving love? Unfortunately, there are many who can.  For whatever reason, love was not provided, instilled or offered unconditionally. We MUST realize we all seek to be LOVED, cared for and valued as humans.  We also must realize we are not all raised in loving, caring, nurturing environments.
Lukas' smile and bear hugs, Reat's performances, a fun-loving conversation with family and yes, the fig newtons made available after a long car drive, all bring a smile to my face as I feel LOVE from these experiences. Many people don't have these same memories.  Without memories and experiences of love, how do we know how to love another, rather than hate?
How do we learn to LOVE our neighbor if this was not modeled for us?
Join me and The Faith Always Wins Foundation as we host our 5th annual SevenDays® Make a Ripple, Change the World event this April. Engage with others as we find commonalities in our need for LOVE.
A donation on behalf of those you love is welcomed to help cover the costs of our event. You can make an impact by sponsoring LOVE day with a donation and a personal message to someone you LOVE.
Xoxoxo is love,
Mindy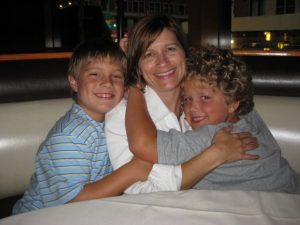 Like this content? Please share!